GrimmSpeed Exhaust Review - FA20DIT Subaru WRX
I'm terrified of picking out an exhaust for my car. As those of you who regularly read our blog might already know, I bought my first performance car, a 2008 Mazdaspeed 3, back in 2009. The cat back exhaust was the last modification I did to it in 2013, a few months before selling the car. This was after I had gone full bore with a massive top mount HTA3586 turbo and Aux Fuel.
Why did it take me so long to install a cat back?
I'm honestly terrified of choosing the wrong one. Yes, I am a picky person, especially when it comes to my car. Like most, when it comes to putting parts on my car I aim to have the right look, feel, and of course, the right sound.
I spent a lot of time on youtube listening to exhaust videos that never seemed to do the exhaust or car any justice. Later, when I had my 2012 Yamaha R1, I put the same effort into choosing the right exhaust for that too.
So, here I am in 2017 with a 2016 WRX. I've installed a catless J-Pipe and I absolutely hate the way my car sounds. It is raspy, hollow, and tinny sounding and cold starts make me cringe. It is at this point that I realize a cat back exhaust is 100% necessary on this car.
But which one should I get?
I again turn to youtube to help me out. I listen to a bunch of videos ranging from cell phone in garage to full professional audio and nothing is jumping out at me.
Like many others, my car is a daily driver and I can't tolerate drone. I also recently got married and don't want to inconvenience my wife (who is already prone to migraines) every time she rides in my car. So, I'm searching for an exhaust that will be extremely daily diver friendly, and one that doesn't compromise performance at the same time.
Enter GrimmSpeed stage left…
A few months ago I'm trolling NASIOC and I come across this thread from GrimmSpeed.
https://forums.nasioc.com/forums/showthread.php?t=2826391
It is pretty exciting to me to see them making a full exhaust for the WRX/STI's and so it peaks my interest. The thing that really sold me on this exhaust was when they call it a "Gentleman's Exhaust System". That single phrase describes exactly what I'm looking for in a cat back for my WRX.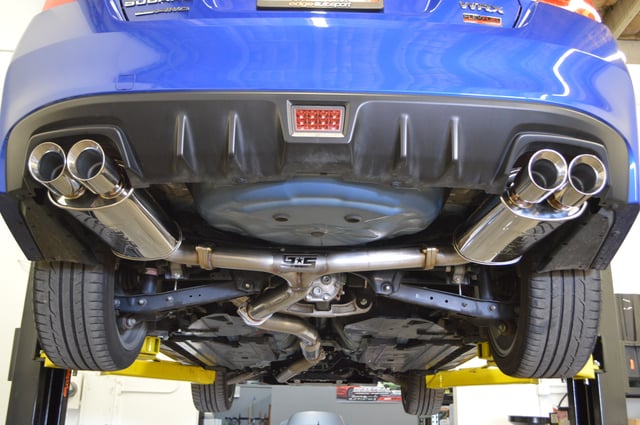 So I went for it!
Cut forward to a couple weeks ago, it is time to finally install this thing which has been sitting in a box in the back for far too long. I am extremely nervous because all the what if's are running through my head.
When I bought the exhaust for my Mazdaspeed 3 back in 2013, it ended up being totally wrong and was nearly impossible to live with on a daily basis. I really didn't want to go through that again.
The install was super simple as any cat back for the Subie tends to be. So we lowered it back down and fired it up.
I can't begin to describe the relief I felt after it started. I purchased the resonated version as that is what GrimmSpeed recommended for the FA20DIT, especially with a catless J-Pipe. There was no more rasp or hollowness. Just a nice mellow tone that makes the engine sound a couple liters, or perhaps even a couple cylinders bigger than it is.
After taking it around the block I am convinced that I made the right decision. This cat back checks all my incredibly picky boxes and I couldn't be happier.
I've been able to take it on some extended trips the last couple weekends up through the mountains with my wife riding shotgun. While she definitely noticed it was different, it doesn't bother her at all and she even prefers it to the stock exhaust, especially on cold starts.
So thank you GrimmSpeed for making a Cat Back Exhaust that fits me as well as my car!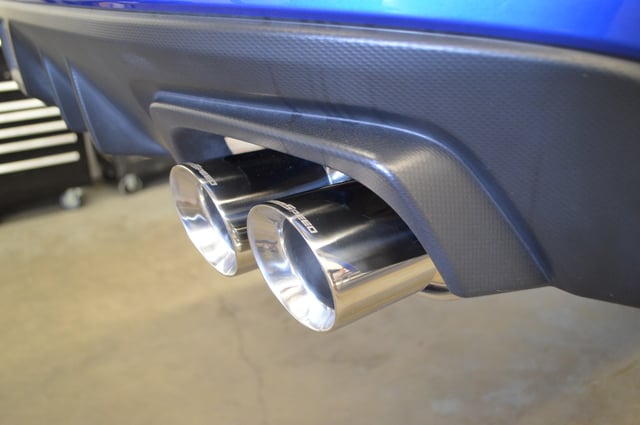 TL;DR
If you are as picky as I am, or if you are concerned about being able to live with an upgraded exhaust system, then I must highly recommend the GrimmSpeed Cat Back to you. This exhaust gets my wife's stamp of approval. 😊