The Biggest Little Turbo: BNR S4 for Mazdaspeed 3 and 6
BNR Turbos have come a long way in the last few years. During this time, it's been common to compare them to a bolt-on ATP turbo setup. They're very similar in actual functionality at the end of the day. I have always been a proponent of the ATP turbos. I personally had the first ever bolt-on style GTX3071 for a Mazdaspeed on my '08 MS3 which I installed in August of 2011. That turbo is still running around putting out 380whp on the guy's car (twin-charged MS3) who I sold it to when I upgraded in 2012 to an HTA3586. It is now going on six years old, and if that doesn't speak to the quality of ATP/Garrett turbos, I don't know what does.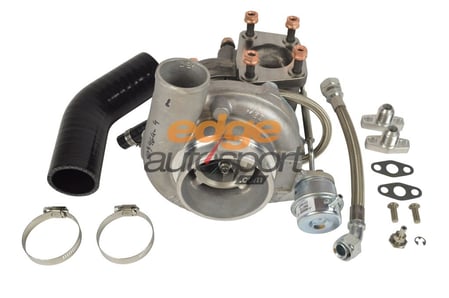 The ATP turbos are made to be bolt-on, but they are on a quite a bit bigger frame than stock and with the shorter 2" compressor outlet, they don't quite fit with the TMIC, and require modifying the supplied coupler. If you have a FMIC, you are pretty much on your own as to what hodgepodge of couplers you use to make it work (call us, we'll help you).
Regardless, it is well worth it as far as upgrades are concerned. The power delivery is amazing, especially on the top end. You do lose some of that low end torque that the Mazda is famous for, but that is not so terrible when you consider the added protection it brings to your rods. When it comes down to it, I will always highly recommend an ATP turbo upgrade for the Mazdaspeeds because there is a wide selection of turbos and they are designed to work with stock style downpipe and manifold. You can even choose an ATP Bolt-on Turbo that will be capable of over 500whp.
Background: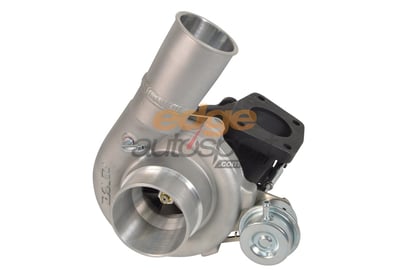 When BNR first started developing turbos for the Mazdaspeeds, they didn't provide a lot of increase in power and though they were very inexpensive, it was still worth the extra coin to step up to the ATP Turbo kit. However, in the last few years, BNR has really stepped up the game and is now developing their turbos as standalone upgrades that do not require a stock K04 as a core and for that matter, don't really have anything left over resembling the stock turbo. These new BNR's are vastly improved in quality and performance and, in my opinion, have taken the crown for best bang for buck turbo available to the Mazdaspeed platform.
Install: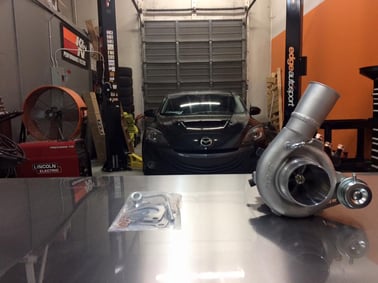 This past weekend, I installed my first BNR S4 on a 2013 Mazdaspeed 3. The first thing I noticed is that it brings "bolt-on" to a whole new meaning. It's like putting a stock turbo back in there. It fits easily enough and retains all but the factory coolant feed line. The kit does come with a new coolant feed line to clear the compressor cover though so there are no hiccups there. It even retains the factory bracket and heat shield that connects to the turbine housing. This gives the turbo plenty of support and keeps that OEM Feel.
The compressor cover is designed to work with the factory coupler for the TMIC and will work with any FMIC that fits with the factory turbo. The BNR S4 (and S3 too) is a very intuitive turbo to install as it all fits and hooks up to everything just like the stock turbo. I'm not saying the ATP Turbo is impossible or overly difficult, but the BNR S4 is notably less difficult and takes a lot of the worry out of the turbo install equation.
Preparation: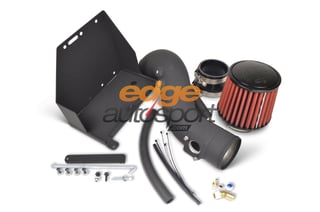 Since the BNR S4 is such and easy to bolt on turbo, there isn't a lot of stuff you need to worry about in terms of prep. The biggest thing is having the right supporting parts on the car and ready to go. While you can run it with stock downpipe and TMIC, I don't recommend this. You will get more life out of your car and your turbo if you upgrade these.
Another thing to have ready is a bigger intake. The BNR S4 has a 3" compressor inlet and therefore will not fit with stock size turbo inlet pipes. This is why we recommend 3" and 3.5" intakes to people who plan on going big turbo in the future. All that is needed for this turbo if you already have a 3" or 3.5" intake is a new coupler. This saves you from spending money twice and the larger diameter intake definitely makes it easier for both the stock turbo and the BNR S4 to breathe.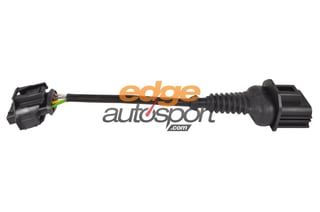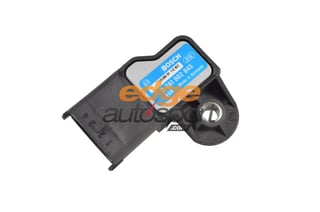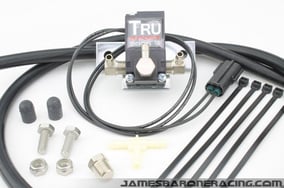 There are a few other things that you will need as well. The first is going to be a 3 Port Boost Control Solenoid. The factory 2 port solenoid can't keep up with the larger turbo and will cause oscilating boost. You will also need to get a Bosch 3 Bar MAP Sensor and the PNP Harness as well. The factory MAP Sensor can only acurately read up to 22 psi and even if you don't plan on going over 22psi, you will still need the car to be able to read more as that will give you room for the factory overboost protection to remain functiona.
Power: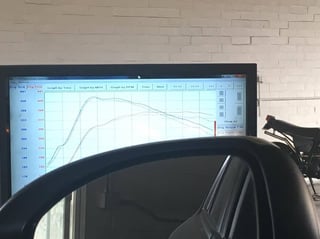 After installing this BNR S4 on a 2013 Mazdaspeed 3 this past weekend, I had the pleasure of dyno tuning it the following morning. This particular Mazdaspeed owner had taken our advice and planned ahead. He already had an upgraded downpipe, TMIC, 3 port EBCS, and an HTP 3.5" intake on the car. So all I did was install the turbo and MAP Sensor. Install went smoothly with no leaks or issues.
We got the car on the dyno Saturday morning, strapped down and ready to go with the base map loaded. After dialing in the MAF the night before, it was ready for some full throttle pulls. I was very pleased to see 300whp and 300wtq on the first pull with the BNR only having to pump out about 17psi. A few adjustments to wastegate duty cycle, and boost starts to come up finishing at 24psi and a massive 420 lbft of torque and 350whp.
Since the car is running an e30 mix, it's now time to add in some spark advance. It doesn't take long to get a few more degrees out of it and another 20whp, finishing at 373whp/425wtq.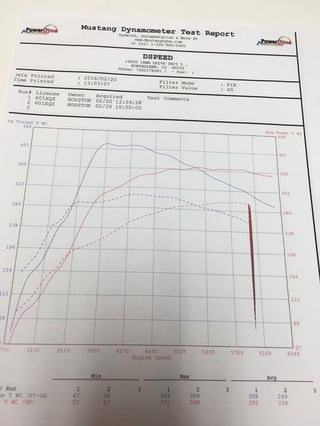 Recommendations:
I am very happy with the power the car is putting down and it's an absolute joy to drive. Torque comes on quick and hard, peaking at 4000rpm, and the power holds pretty flat all the way up top.
However, I do wish we had adjusted the wastegate a little in order to get some more pre-load and some more boost up top. With the boost dropping to 20psi up top, the setup is pretty much maxed out as is. That being said, the TMIC is right on the verge of being a limiting factor with BAT's climbing up to 130 degrees. Granted this won't be as bad on the street, but a FMIC would definitely benefit this car in a big way. Also, keep in mind that we are over a mile high here in Denver and the S4 will hold better boost at sea level.
Overall, I am extremely happy with this setup and how the car turned out, and so is the customer. BNR has come a long way from when they first started rebuilding stock turbos for more power. There isn't really anything stock about this turbo except for some of its dimensions. If you are thinking about an upgraded turbo for your Mazdaspeed 3 or 6, you may want to take a look at the BNR S4 or S3. It is going to deliver smiles for days!

One final side note, I have a graph here that compares a GTX3076 car that I've tuned on the same dyno on 91oct pump gas only. The BNR S4 is running E30 so it is kind of apples to oranges. But just so you can get an idea of the difference in power curves, here is the chart.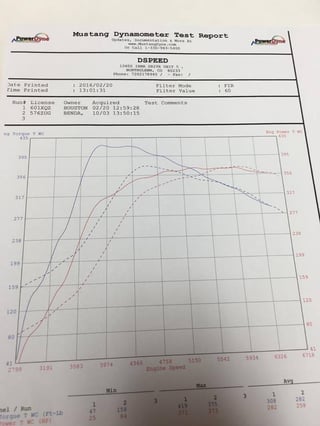 You can see that the BNR Spools quite a bit quicker and has a lot more area under the curve. On 91oct only this car would have only put out about 350whp/415wtq, giving the top end to the GTX3076 on the same fuel, but the "bench race" would still probably go to the S4.
Want to see more? Check out our installation video of the BNR S4 turbo on a Mazdaspeed 3 in our shop!