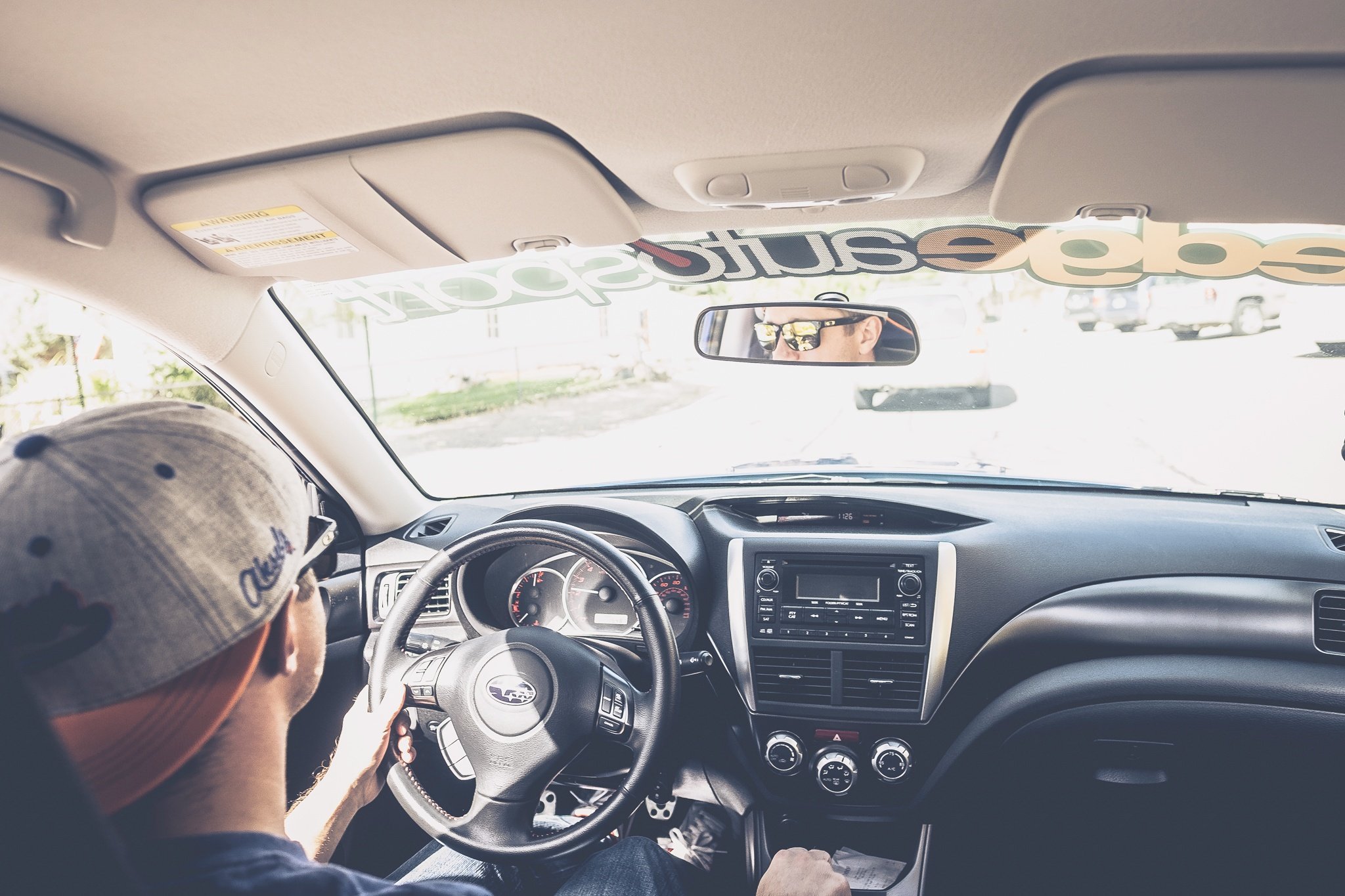 Fast Subarus, Colorado Roads. Enough Said.
The following is what happens when 3 bad ass Subarus get together with 2 bad ass photographers and go out for a drive.
If you've ever been to Colorado or have the pleasure of being from here like me, you know that Subarus fit here like a hand in a glove. The mountains are heavily accessible year round for those seeking adventure in the form of biking, skiing, camping, and more. Accessing them when they're the recipient of mother nature's mood swings means you need to be prepared. Subarus have a cult-like following here because they're so good at this. But what happens when mother nature isn't throwing the gaunlet at you and gives you a free pass? You take that big ol' air compressor attached to your 2.5 liter all wheel drive boxer and you go outside and play. That's what you do.
Before the "hills" started to turn white this year, a few of us got out and enjoyed what only so many are lucky enough to have in their backyard. Want to know who and what? Keep reading.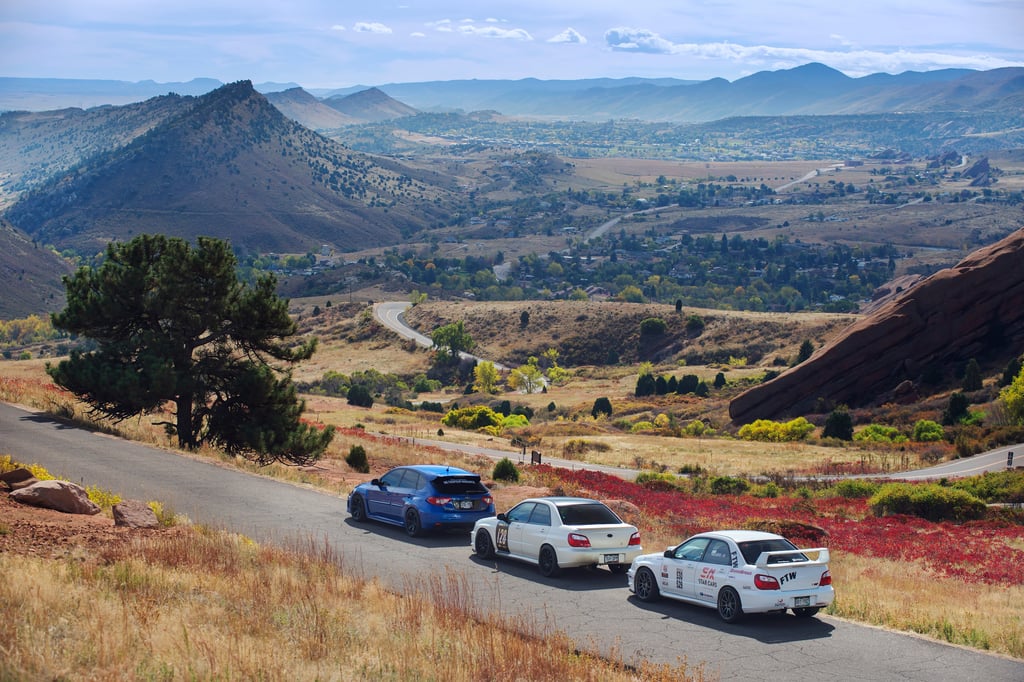 ---

Justin's 2005 Subaru Impreza WRX STI
...is nothing short of magazine worthy...literally. The car was featured in the November 2015 edition of DSport Magazine (page 44). There's no question the "Polar Bear" is an intense mixture of functionality and performance. It's been a long journey for Justin to get to where he's at after having bought the car brand new and only having this current setup since summer of 2014. We need to give credit where credit is due at this point. Scott Molitor from Mofab is one hell of a fabricator and overall automotive artist. With Justin's ideas and Scotty's level of execution, this is one of the best STIs we know of, ever. Along with that, you take the master of high altitude tuning and a master tuner in general with ANY platform, Nick McMahan from Mac Autosport, and let him perform witchcraft on an AEM Subaru Plug-n-Play Standalone ECU and suddenly things get scary in a fun way.
We've had a great time hanging out with Justin this year at 2 different Shift S3ctor Airstrip Attack 1/2 mile racing events, one in Colorado and one in Oregon, among some other events. He's planning on another big year with the car in 2016.
Here's the rundown for those of you lurking.
Photos by Cody Lind, CL Photography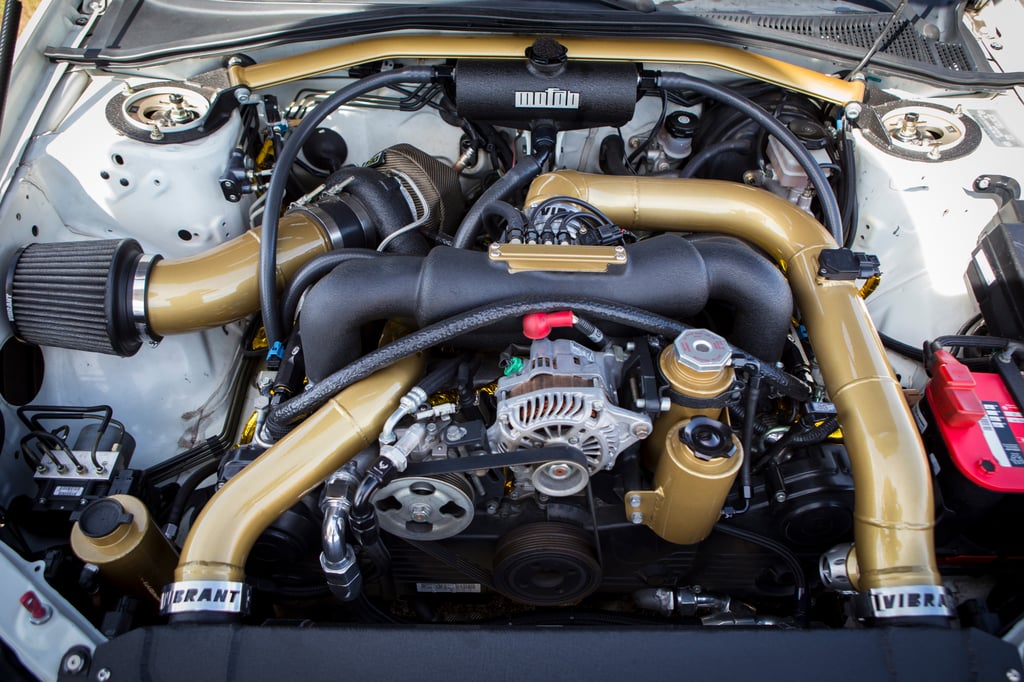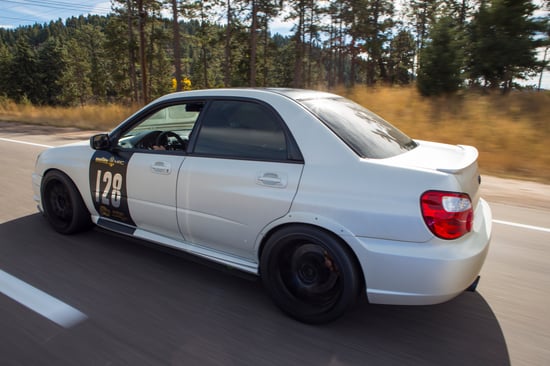 -Perrin Rotated Uppipe and Downpipe

-Garrett GTX3076R Turbocharger

-AEM Standalone ECU

-Cosworth Intake Manifold

-Injector Dynamics ID2000 Fuel Injectors

-Radium Engineering Fuel Rails

-Custom Coolant Overflow Tank by Mofab

-Custom Oil Catch Can/Ventilation by Mofab
-Custom Built V-Mount Intercooler Setup by Mofab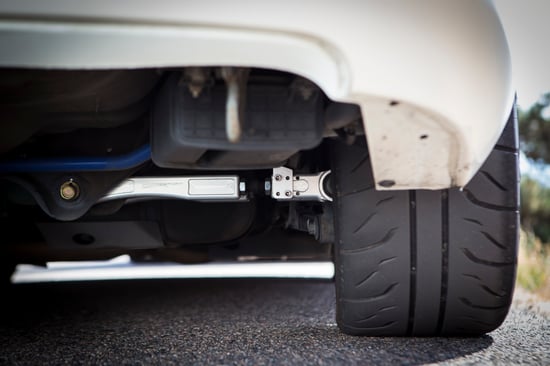 Walbro 450lph Fuel Pump-
BC Racing Coilovers-

MSI Billet Rear Lateral Links-

DBA 4000 Series T-Slot Brake Rotors-

Advan RS-D 18x9.5 +10mm Wheels-

Bridgestone RE-71R Tires 255/35 R18-

Custom White Vinyl Wrap-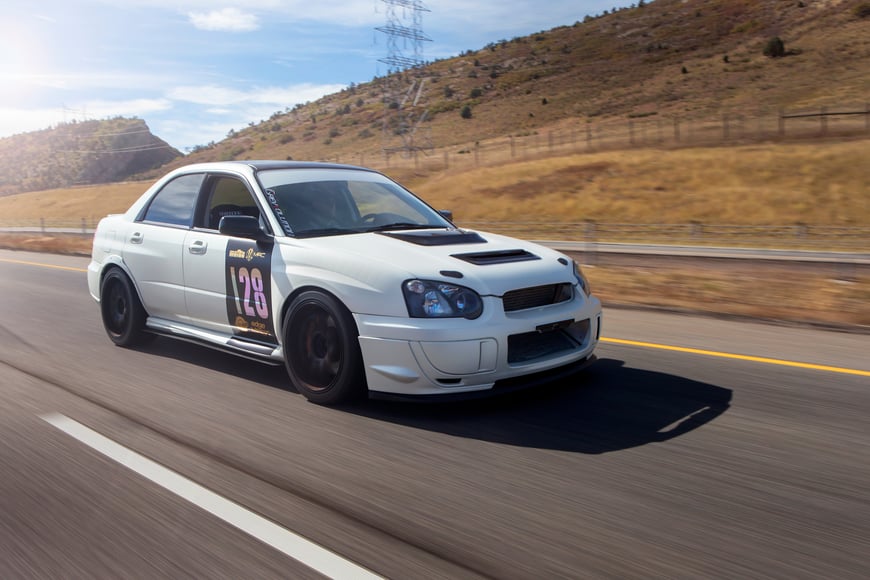 ---

Ben's 2012 Subaru Impreza WRX
...took the long road, speaking of going out for a drive. Ben is one of those "lucky" guys that has learned the value of a strong work ethic early on in life. It's a good thing because it took a lot of perserverance to find out why a WRX with an EJ powerplant has a hard time making BIG power without major modifications. Ben decided to go out on a limb and boost the hell out of a stock EJ255 WRX engine on a GT2871R turbo. If you know what I just said, you know how that ended up. Ben was having a little (safe) fun on the highway one day when the cast EJ255 piston decided to violate the cylinder wall in an inappropriate fashion, causing the second major step to be taken with Ben's build. Like I said, that was step 2. To make a long story short, step 1 was the original stock 5 speed failing and being replaced with a new, identical OEM 5 speed. Step 2 was the forged motor build after stock motor failure which was simultaneously refreshed with a 5 speed billet gearset while everything was apart. Step 3 was the swap to an even bigger slug in the form of a GTX3076R stock location turbo. Step 4 was the billet 5 speed gearset failing and being replaced with a STI 6 speed trans. After Ben finally got some smarts to pair nicely with his work ethic (just kidding Ben), he was able to go on this drive and have quite a bit more fun than someone playing board games on a Friday night. Although Ben is planning a rotated turbo setup soon, that doesn't mean it has to be done in order to be a great build already. Check out what's under all the sheet metal and plastic bumpers.
Photos by Tim Kim, Tim Kim Photography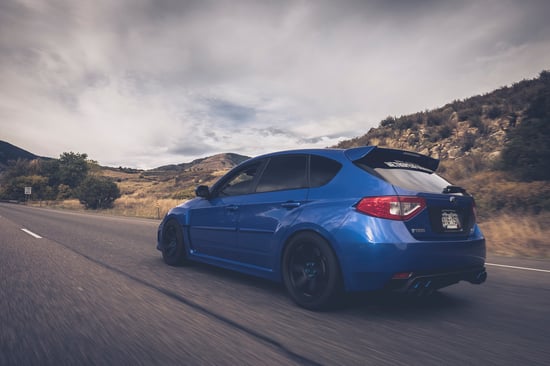 -Stock Location Garrett GTX3076R Turbocharger
-Cobb Tuning AccessPort
-Cobb Tuning SF Intake

-Perrin Front Mount Intercooler
-Invidia Uppipe with Tial 38mm External Wastegate
-Invidia Catless Downpipe
-Invidia Q300 Catback Exhaust
-Injector Dynamics ID1000 Fuel Injectors
-Radium Engineering Fuel Surge Tank
-Walbro 450lph Fuel Pump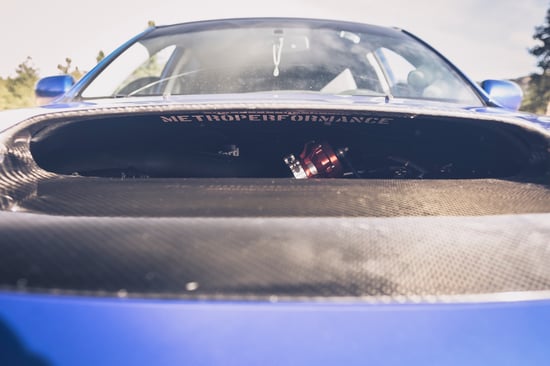 Perrin Fuel Rails-
Aeromotive Fuel Pressure Regulator-
Perrin Electronic Boost Controller-
Tein Type Flex Coilovers-
DBA 4000 Series T-Slot Brake Rotors-
Hawk HPS Brake Pads-
Stainless Steel Braided Brake Lines-
Perrin Front and Rear Sway Bars-
Rota Grid 18x9.5 +38mm Wheels-
Michelin Pilot Super Sport Tires 255/35 R18-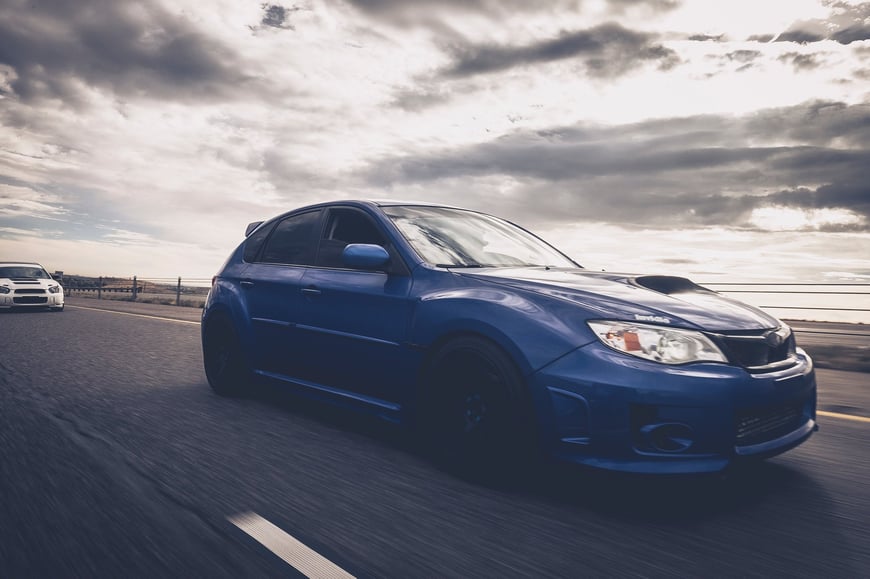 ---
Chris's 2005 Subaru Impreza WRX STI

...doesn't have the typical mod list the average reader looks for. As a matter of fact, in a straight line it's the slowest out of the 3 cars here. That doesn't change how much its presence is felt when it's on the road though. The fact that it's actually on a public road for this photo shoot is odd to begin with. The car only sees competition. But who can say no to doing what you see here? You can tell it wasn't put together for comfort while cruising behind it. It bounces around like Pam Anderson running on the beach except with a much faster rebound rate. Form was not heavily considered in the making of this track animal. Function was delivered on a silver platter, though. Chris is an avid autocrosser and this is only one of two cars that he tracks throughout the warmer months. The other is a Lotus Elise. When I asked Chris to give me a mod list, you could immediately tell he rolled his eyes when he read that message. I'll paraphrase. The list basically said, "Everything most people don't want and don't care about but will make it faster and more fun than anything they know about." To prove the accuracy of that, these three cars along with our Ford Focus ST with 430whp and a BorgWarner EFR7163 we're pinned at wide open throttle in a closed course, mildly competitive hill climb last summer and guess who needed to be in front if someone didn't want to have to slow down? You guessed it, the stock turbo, track prepped STI you're currently reading about. We'll admit he's a pretty good driver, too.
Photos by Tim Kim, Tim Kim Photography and Cody Lind, CL Photography.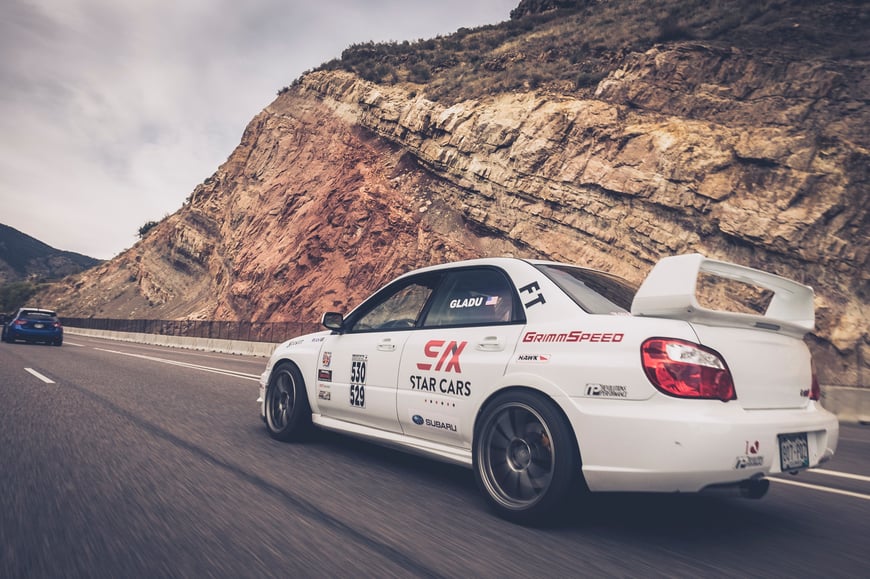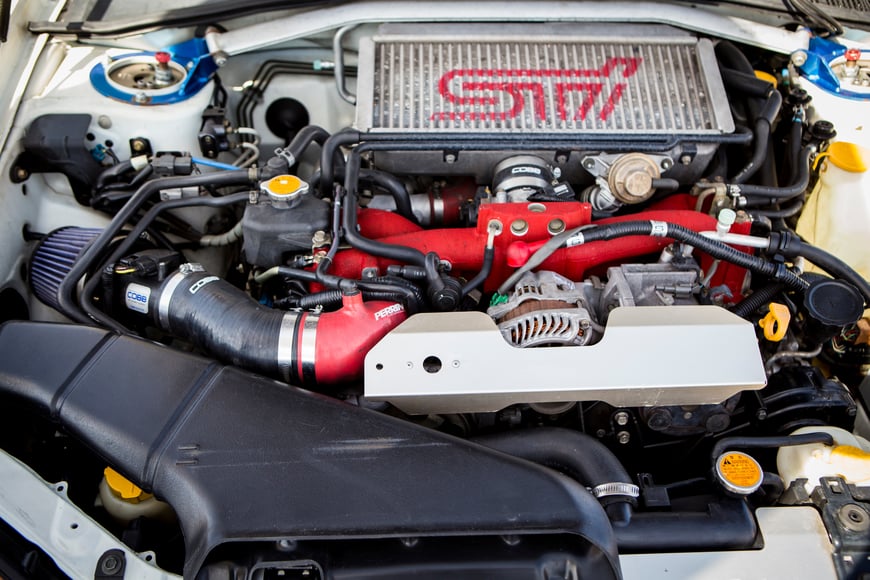 I'll give you the list exactly how he gave to me.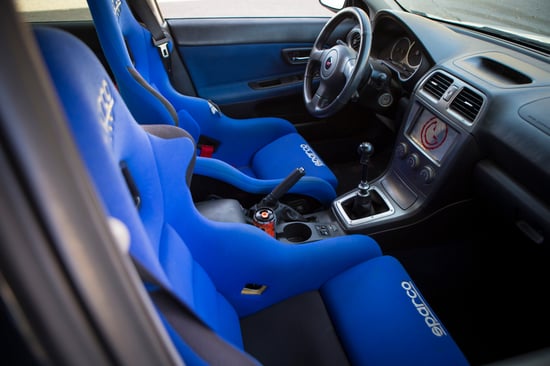 Cobb Tuning SF Intake-
Denso Electronic Boost Control Solenoid-
550cc Injectors-
Version 8 Matched and Balanced Rotating Assembly and Heads-
Helical Front Differential-
Clutch Type Rear Differential-
Aluminum Lower Lateral Links-
Aluminum Spec C Lower Control Arms-
A couple random bushings-
-JRZ 3 Way Motorsports Shocks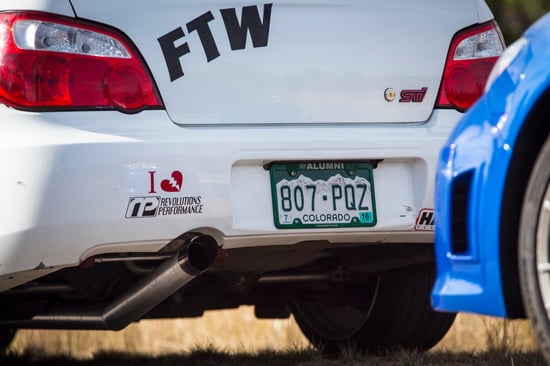 -Hyperco Springs
-Vorshlag Front and Rear Camber Plates
-Stoptech Stainless Braided Brake Lines

-ARP Wheel Studs
-Grimmspeed Exhaust Manifolds
-Grimmspeed Crossover Pipe, Uppipe, and Downpipe
-P&L Aluminum Catback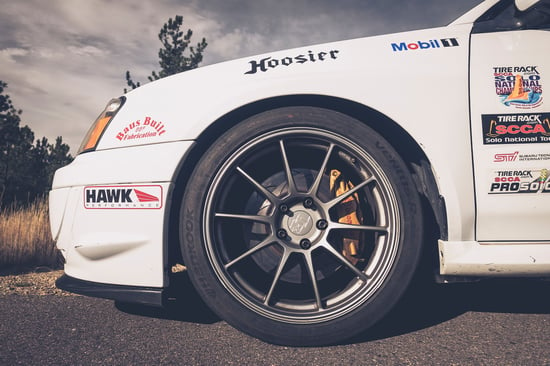 "I have fancy two piece rotors I run at national events."-
18x9.5 TR Motorsports Wheels (Shown)-
17x9 Team Dynamics Wheels-
8x 245/40/18 Hankook RS3 Tires-
6x 275/35/17 Hoosier A6 Tires-
4x 255/40/17 Bridgestone RE71R Tires-
"I guess I have seats too. Sparco Pro2000 with planted brackets."-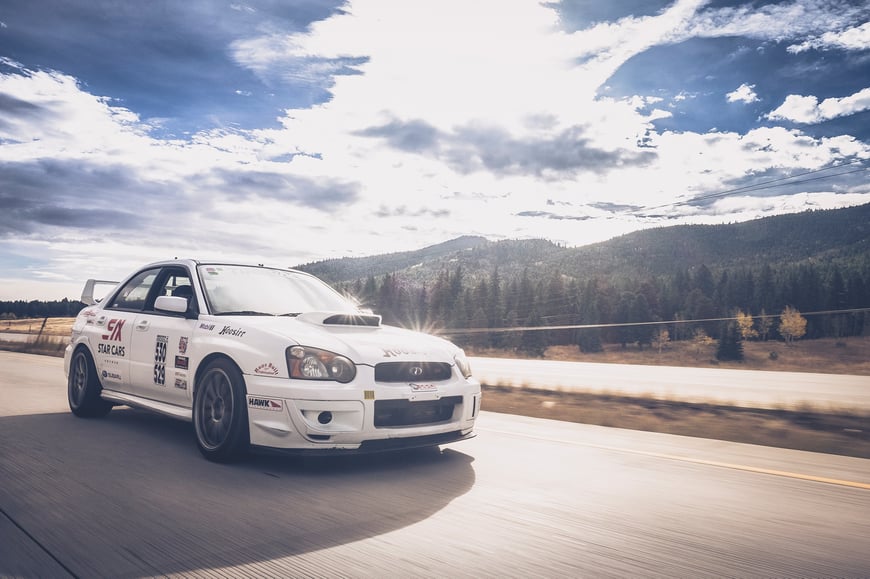 Cars. Driving. They're two simple words that evoke too much emotion to explain sometimes. Those two things combined with the word friends has no match. I would do something like this again in a heartbeat and I do regularly. It's December as I write this and already, spring can't come soon enough. I'll see you when the roads clear.
More about the drive....
From left to right - Ben, Chris, JP, Justin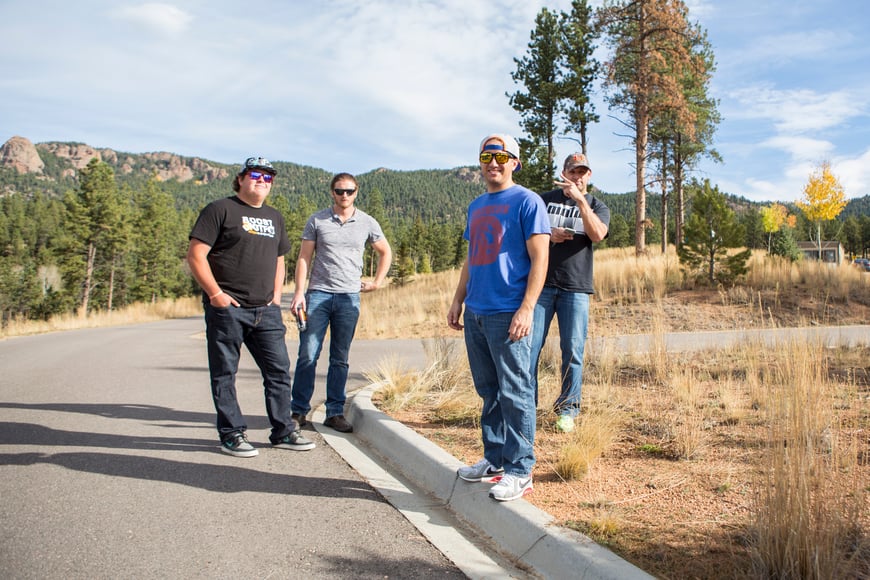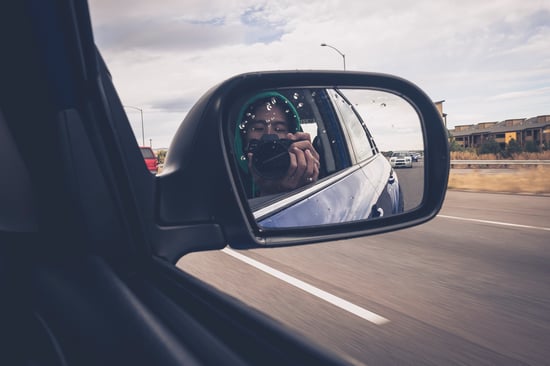 Tim Kim (yes, that's his name) is an IT Security Analyst by trade and spares no time when the camera is in his hands during his free time. His creativity is evident in everything he does, as well as his passion for photography and life. I made sure to fly him out to SEMA with me recently if you care to
check out that blog with awesome photos right here.
Please check out his website and feel free to contact him.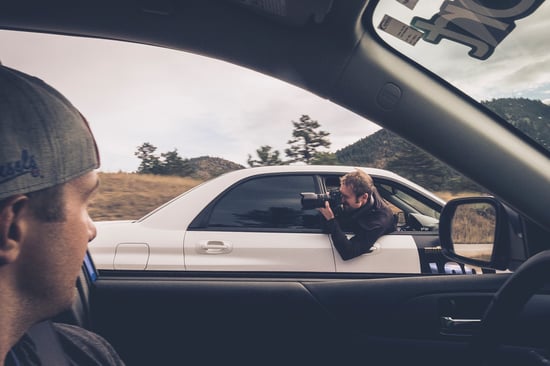 Cody Lind is a photographer by trade and one of the nicest guys I've met. He personally owns a modified Subaru WRX Wagon. You may recognize several pictures he has done for Cobb Tuning's website that are actively published. He has also shot the cover photo and feature article in a recent Super Chevy magazine, among many other distinguished automotive shoots. Feel free to reach out.
My name is JP Alonso and I see the world through my own lens, as well. If you put me behind the wheel of anything fun, that's when everything slows down for me and becomes comfortable, even if it's in my 6 speed shifter kart going 70 mph with 40 other guys around me going into a corner 3 wide. It just feels normal to me. Cars are not only what I do but part of who I am. I hope you enjoyed this blog. Make sure to check us out for all your high performance automotive parts and our other blogs and content. Thanks so much for reading!
We would love to hear from you! Please submit any comments below! Tell us what you think!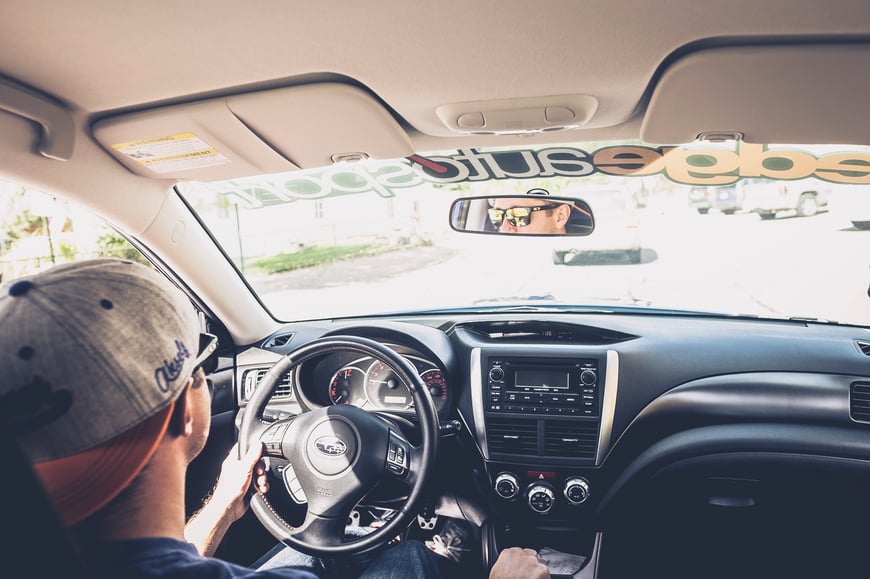 About JP Alonso
I'm the founder of Edge Autosport and I remember first getting into cars in high school. I read all the magazines, bought a bunch of technical books, and finally got to start wrenching around the age of 19. I really enjoy modding and being able to live out a passion is truly awesome. I wouldn't change a thing.