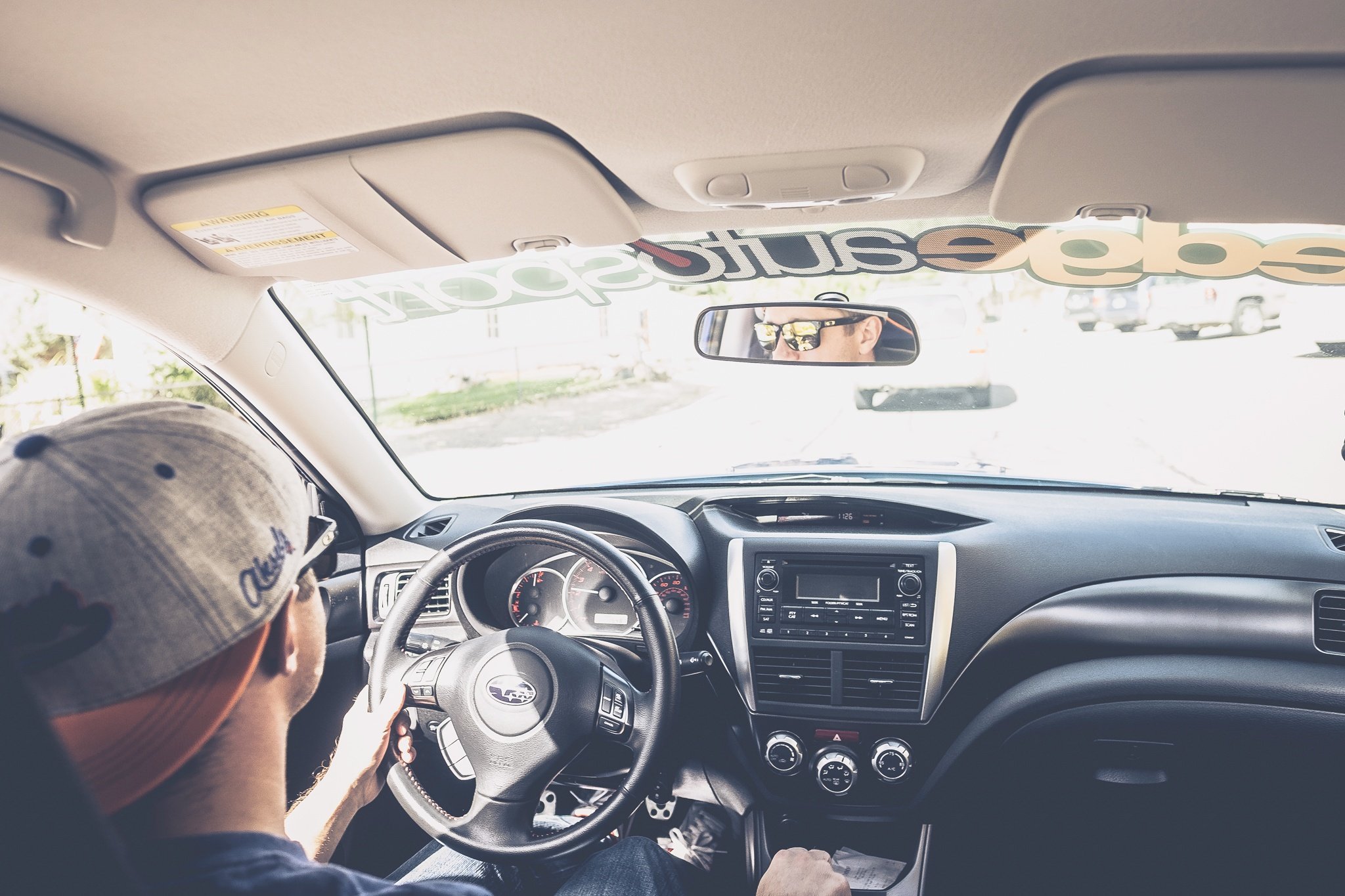 Project Blue Boxer - Part 3: Nothing Too Flashy, Everything Functional
Part 3 of Project Blue Boxer is comprised of a handful of very functional parts with a dash of style. A mixture of more power, better handling, and preventative modifications were all thrown at the car and we can honestly say the car is starting to set itself apart from the rest...finally.
Let us know what you think about the project! We'd love to hear your suggestions, thoughts, and impressions in the comments section below! If you're interested in future project updates, make sure to sign up for our weekly or monthly blog updates!
Grimmspeed Up-Pipe
Let's start with what makes our gears turn the most, power. These parts always seem to show up on any given build before many others and in our case, they showed up early and often, as well. To compliment our Grimmspeed downpipe and Greddy catback exhaust, we used a ceramic coated up pipe from Grimmspeed. Although it can be a pain in the butt to install, it provides too much power and torque under the curve to ignore it. All the blood and sweat (and sometimes tears) on install day will be worth it once you hit the dyno. Our stock turbo spooled a few hundred rpm's sooner than it did with the stock pipe. That's impressive alone but what comes with it is a power curve that comes on a lot sooner and a lot harder. We absolutely noticed a power difference on the street.
Perrin Top Mount Intercooler
It's hard to say exactly how much more power the up-pipe or the Perrin intercooler gave us by themselves because they were added simultaneously. Based on our experience, we know that a lot of the improved turbo characteristics came from the up-pipe. But the two parts added more power than most up-pipes do on their own so we know the top mount provided a good bump. Either way, there is a safe, more consistent set of air molecules entering the engine now with the cooler charge temps and a higher boost level being maintained. Aside from power, we're equally as happy with the fitment. The fact that it bolts on to such a unique factory turbo style in the WRX is a blessing. It just makes modifying really easy.
Go Fast Bits Dual Port Blowoff Valve
Up until now, my disdain for atmospheric blowoff valves has gained a lot of momentum. It's the cliche "rice" that we try to stay away from but I really wanted to try GFB after receiving a lot of good feedback from our customers and what we know of their overall quality. I'm not disappointed or regretful. The valve is literally one of a kind where you can adjust the atmospheric-to-recirculating dump bias to whatever you want. You can have it set to 90/10, 70/30, or 50/50, take your pick. Even better, you do it without removing or adjusting anything on the car outside of the bias adjustment itself. The lower half of the valve's body turns while mounted to the car. This is perfect. At the track, pop the hood and turn it to 100% recirc. Back on the street, I like it to sit somewhere around 30% atmospheric dump. It provides a quick, noticeable release of compressed air without being too annoying. Back to feeling cool again. It fits right on top of the shiny new TMIC and doesn't clash with the engine bay at all.

Eibach Lowering Springs and Whiteline Rear Sway Bar
I'll begin by saying we are eventually switching to coilovers, most likely by the next installment of our project. We know springs aren't going to cut it on this build, in particular. We wanted to see what the ride felt like for our own knowledge since we normally go straight to a full suspension setup. We like to be able to translate information to our customers about products we sell. It's also winter in Denver and we wanted to save the handling awesomeness of coilovers for the nicer weather. The Eibach springs are relatively easy to install, as are most suspension parts on the Lego-like Subaru chassis. They gave the car a perfect height for a very functional stance. There is absolutely no rubbing, as tested with our stock tires and wheels and our upgraded set. Aside from quick, high speed bumps that cause some bounce, the ride is quality and comfortable. They seem to work well in rythm with the stock shocks. I would recommend the Eibach setup to anyone who isn't looking for extreme and doesn't like stock monster truck suspension.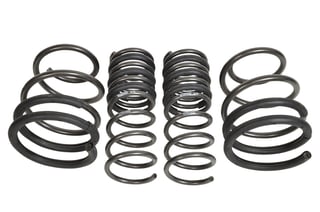 | | |
| --- | --- |
| | |
The Whiteline sway bar and end links went in nicely. We haven't been able to expose the potential of the sway bar on the cold, often wet roads of Colorado this time of year but we'll have more to report soon. The bar is 20mm thick, a good deal thicker than stock and the end links are way more stout than the stock, pencil thin hardware. We're excited to put this to work on the track.
Killer B Motorsport Oil Pan, Oil Pickup, and Windage Tray
This mod is purely functional. It gets tucked away under the car which is a shame because it's pretty. Killer B's aluminum skills are beyond competent, way beyond. Pretty or not though, that's not why we put it on. It holds a little more oil than stock and the main point of the upgrade is based around the oil pickup. It's common for the stock pickup to crack at some point and suck in some air along with the oil. If engine bearings could speak, they would tell you they don't like that too much. We can't afford problems like that with our use of the car being closer to the edge of the performance barrier of the car. The Killer B hardware is 2nd to none in quality. They are a hugely supportive manufacturer to the Subaru community in particular so we wanted to pay them some respect with putting their stuff on our car. I wouldn't call this an easy install. It requires more than you would think changing out a simple oil pan takes but it's invaluable to those that need reliability and function in their performance built Subarus.


A few more simple but highly functional modifications
Our goals with the car suggest adding more than the run-of-the-mill modifications. A pitch stop mount is a nice addition to reduce engine movement which is critical for 2 main things. It allows the drivetrain to do more work transferring power to the ground and it reduces movement so the car doesn't misbehave itself in the twisties and during a lot of weight transition. We used a Torque Solution mount for this and it's nothing short of well built. There is a slight increase in cabin noise from the transmission but it almost fits the car's character with how loud it is already, compared to other cars. We also wanted to improve the brakes further with a master cylinder brace, mainly to improve pedal feel. Grimmspeed's brace helps us achieve this. A Cobb Short Shifter and Bushings were employed to give us a crisp feel while rowing through the long winded 5 speed. This is one of those things that we'll just wait to see how good it feels on the track when you need to go into and out of gears so many times in a short period of time. It's a quality built piece and not super hard to install. We're happy with the overall feel of it so far.


"Topping" It Off
Being available as a Subaru OEM part, we liked the idea of throwing this on. Aside from a small amount of function we might receive at the track with improved aerodynamics, it looks great. It really gives the car a lot of character. It's much less than $100 shipped which puts it into the category of things you could purchase immediately after thinking of it. It's a quick 5 minute install and it makes you look at your car when you walk away from it....well, more than you already do. ;)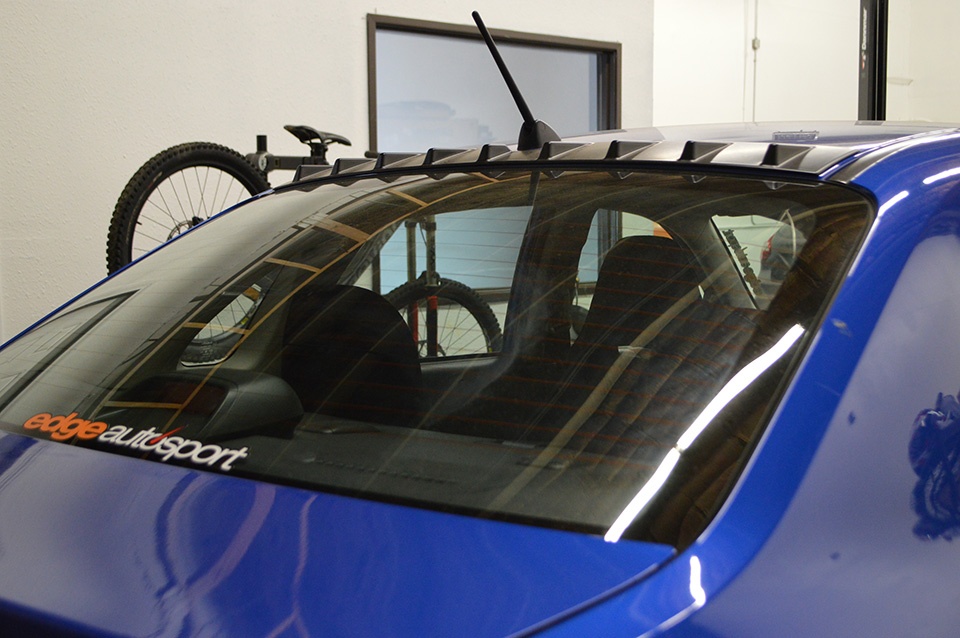 I don't feel like any individual modification we've done in this most recent update is a significant improvement compared to where we're going with the car. It's a lot of small things but when the sum of the parts is considered, the car has really changed with these small improvements. The car has definitely shed the stock vibe in lieu of a more defined identity.
Here is where we're at in terms of power and torque. The graph shows a comparison of where we were with all stock hard parts but we actually had a Cobb Stage 1 OTS map flashed! What a huge difference so far! The car definitely feels as improved as this graph would suggest. In Part 4, we'll get into more significant modifications. Get ready for a little more fun!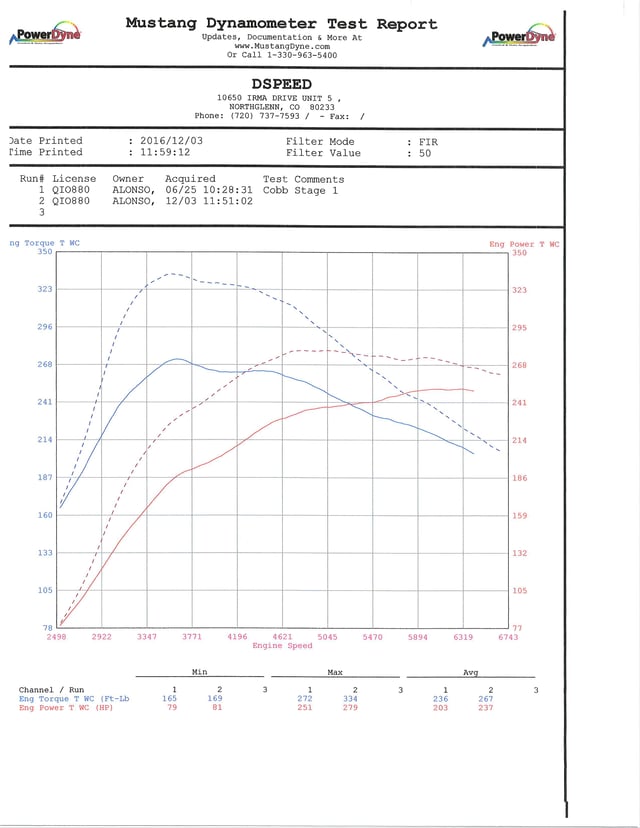 About JP Alonso
I'm the founder of Edge Autosport and I remember first getting into cars in high school. I read all the magazines, bought a bunch of technical books, and finally got to start wrenching around the age of 19. I really enjoy modding and being able to live out a passion is truly awesome. I wouldn't change a thing.