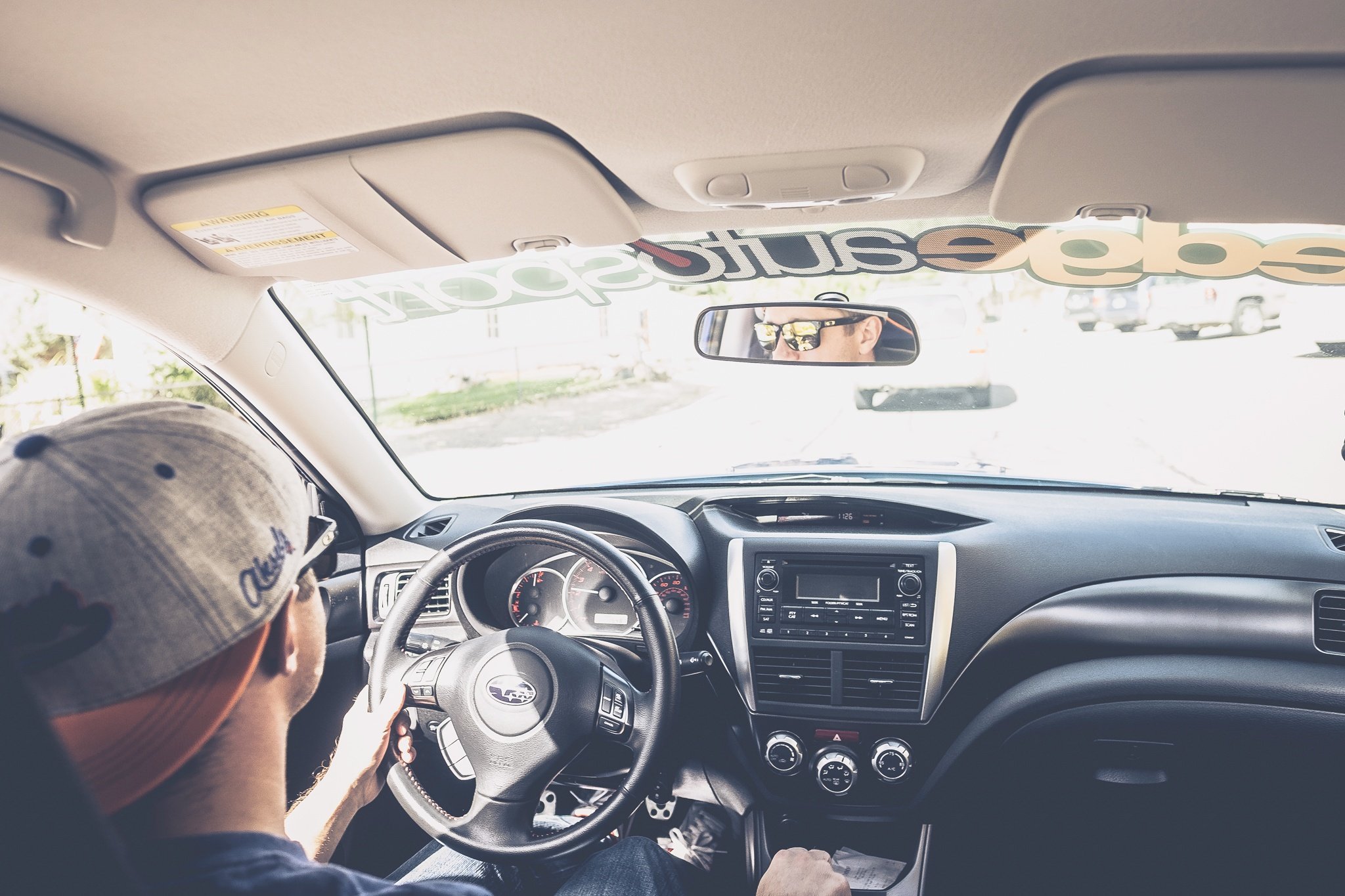 Ford Focus ST - Performance Introduction
So you just bought a Ford Focus ST or maybe you finally hit the end of your warranty. You've cruised around online or hit up the local scene and seen some STs with crazy modifications and you've been patiently waiting to start having fun for yourself. What's the best way to go about it? How much power can you get? What's safe and what's not? What should you start with?
Welcome to the Focus ST performance introduction. It's our way of answering a lot of frequently asked questions and addressing concerns that other people have had before you. Maybe you're halfway through your build and don't really know what to do next. This is for you too. It's a basic intro to transforming your Focus ST into anything from a daily driven, canyon carver to a track animal and everything in between.
The budget friendly approach
You wouldn't believe how much you can change your ST with some lost gift cards you just found 9 months after the last holiday season. The ST doesn't need much to get going and if you've never done this before or you just don't want to dig deep into your pockets for this project, get the most bang for your buck and start with some inexpensive mods that have a big effect. There are many items you can get for around $100-200 that will net you a much better experience with your ST. You don't have to spend hardly any time putting many of them on, either.
What can you do to your Focus ST?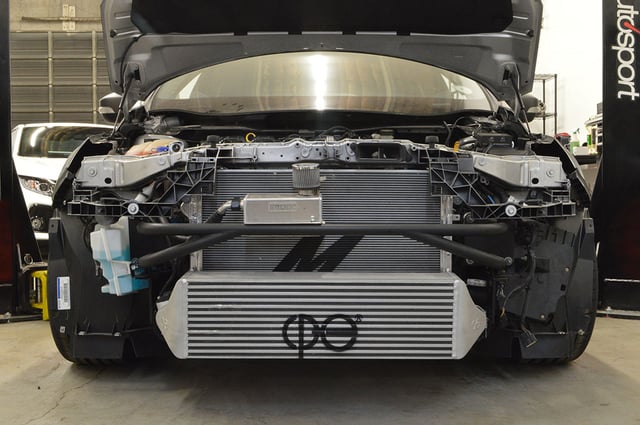 The more appropriate question is what can't you do? The ST is a very mod friendly platform. Here are some basic things you can do to the car without getting in over your head right away.
ECU Tuning - extremely simple and effective.
Rear engine mount - you won't believe what about $100-150 will make your ST feel like.
Intercooler - yes, it's front mount from Ford. No, it doesn't work well.
Downpipe - let the turbo breathe!
Blowoff Valve - channel your inner ricer or get something elegant.
Lowering Springs - it's a Focus ST, not a monster truck.
This is only the beginning. Of course, everyone has a different idea of what they want their car to be and there's nothing wrong with taking a different direction. But let's say you followed that list right there. You'd have a pretty sweet ST and people would begin gathering around and asking you questions at the car meet.
---
Click here to download a free 19-page guide on how to get more power from your Focus ST. Learn about what parts to put on and when.



---

Brakes, Suspension, Wheels, Tires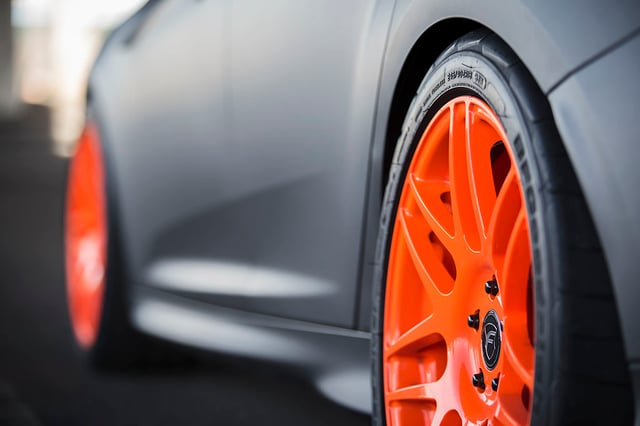 Whether you are the guy who figured out stock brakes and suspension don't cut it for how fast you want to take that corner on the way home or you're trying to make it look like a car that no one can resist breaking their neck looking at, there are tons of options. Modifying your suspension, brakes, and anything surrounding it can have a significant impact on how awesome your build can be.
Brakes

From plain rotors, slotted, drilled, or drilled and slotted, plenty of rotor options exist that fit perfectly with your existing calipers and wheels.
Full track brake pads to slightly better than OEM pads are all readily available for the front and rear axles.
Stainless steel brake lines - very effective for the money and time involved.
Big brake kits - many 6 and 4 piston front kits and a Wilwood rear upgrade that isn't full on big boy brakes but is a pretty good alternative to stock.

Suspension

Shock replacements from stock feel to aggressive
Lowering springs
Coilovers with height and stiffness adjustments
Full airbag setups - sometimes you just can't tuck the wheels enough
Sway bars, end links, bushings, control arms, and more

Wheels and Tires

Tires are really up to you. There are tons out there, take your pick.
Wheels - get ready to search. The Focus ST has a 5 x 108mm bolt pattern. I'm pretty sure Ford wanted to make it as hard as possible to switch from the stock snowflakes.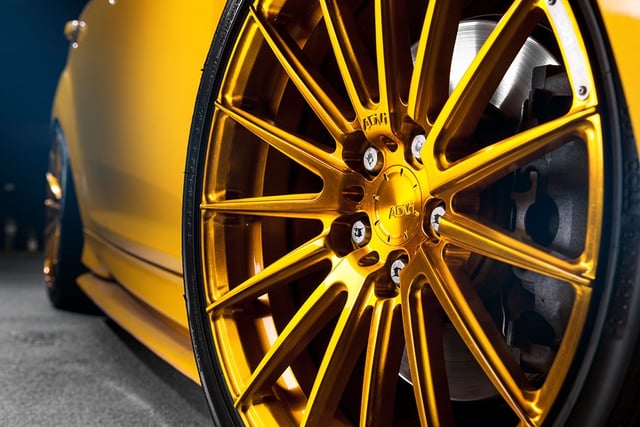 Running E85
Yes, you can do it! But before you do... Running ethanol on the ST is fine but typically all you need is about a 30% mixture. This means you can't just go to the E85 pump and fill 'er up. Long story short, there are no easy ways to upgrade the fuel system on the Focus ST. It's direct injected and that means it's more complicated. However, the stock fuel system can handle much more fuel than a typical OEM port fuel injection system. Around 350-375whp is achievable (not with the stock turbo) with all factory fueling components. Pretty awesome! After that, don't count on any more until you start looking at alternative fueling kits that piggy-back on top of the stock fuel system. More on that later.
400 Wheel Horsepower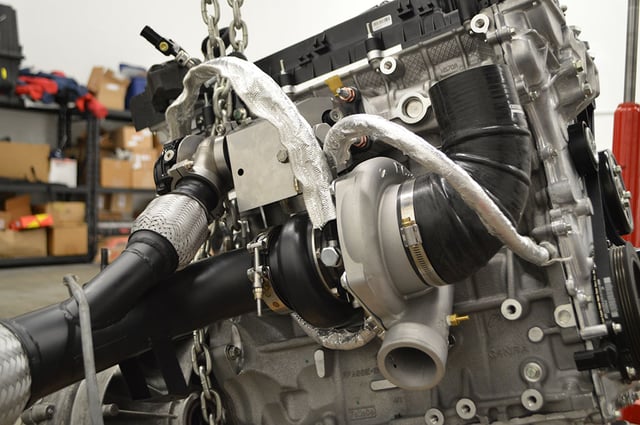 This is where things get awesome. Relatively speaking, it's easy to achieve 400whp with a Focus ST. You can do it with simple bolt-on parts and some time under the hood, whether it's you or a shop. It does require you to swap to a bigger turbo kit but pretty much any turbo setup you can imagine getting is available in a kit that has already been designed and is ready to ship out to you. Of course, you don't have to go for 400whp just because you're getting a bigger turbo. Since the stock turbo is reliably capable of about 275-280whp, getting to 350whp will require a big turbo too and trust me, it's no slouch at that point. Aside from a turbo, plan on a higher capacity clutch if you haven't done it at this point already.
Building Your Engine
Here's something you're probably wondering about and if you haven't, I'll start the process early. Do you have to build the motor with stronger components to make this much power? I can't say yes but I can't say no. If you have 100k miles on the car and you want a big turbo, it wouldn't be a surprise to see a piston, rod, or bearing let go shortly after your install. Although, I wouldn't be surprised to see it last to 150k. If you have a new car or relatively fresh motor, it'll handle it pretty well with the right tuner at the controls of the ECU and a well maintained setup. I wouldn't be afraid to push the 400whp barrier on a stock engine. At the end of the day, you need to do what's best for you and if you can't risk the worst case scenario, then take a step back. But if you do it, you wouldn't be the first one that sees a smooth 50k miles or more on a high powered, stock engine.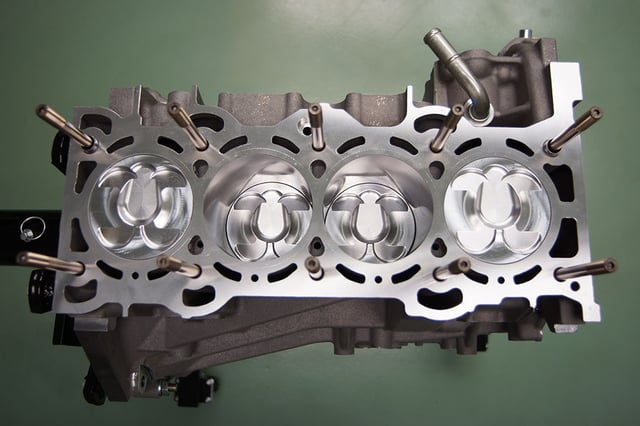 Let's say you're planning for the future or you're at that power level where you want to build your engine before something bad happens. Pretty much every component is available with a higher performance version. Higher compression, forged rods, forged pistons, bigger valves, bigger cams, tougher bearings, stronger head studs - it's all available. If this subject gets your blood pumping, then you'll be happy to know a 2.3l stroker is a pretty easy switch. The 2.0l Focus ST engine happily accepts the 2.3l crank from the Focus RS / Mustang EcoBoost engines.
Auxiliary Fueling
This is probably going to be foreign territory for almost anyone reading this that hasn't modified a direct injection car before. This is not replacing your fuel system, this is adding on to it. Basically, in order to achieve large power numbers, say above 400whp, the engine requires more fuel. The stock fuel injectors or any replacements currently available are a bottleneck this point. The solution is putting more injectors on and adding fuel the old fashioned fuel injection way which is spraying fuel in the location where the throttle body is and letting the fuel distribute through the intake manifold or adding a spacer with provisions for fuel injectors in between the intake manifold and the cylinder head. If this sounds complicated to you, don't worry. Just wait until you get to this point and then you can start figuring out what works best for you. There is plenty of info on that elsewhere.
Now that you've reached system overload, let's take a deep breathe. There are many places to go. Stay true to your style and stick to what makes you get all revved up about your Focus ST.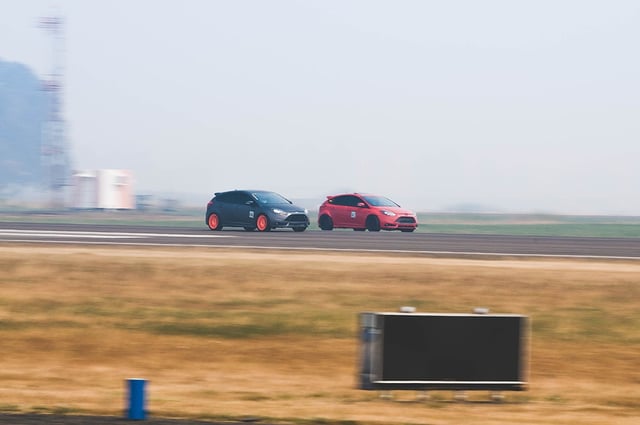 About JP Alonso
I'm the founder of Edge Autosport and I remember first getting into cars in high school. I read all the magazines, bought a bunch of technical books, and finally got to start wrenching around the age of 19. I really enjoy modding and being able to live out a passion is truly awesome. I wouldn't change a thing.