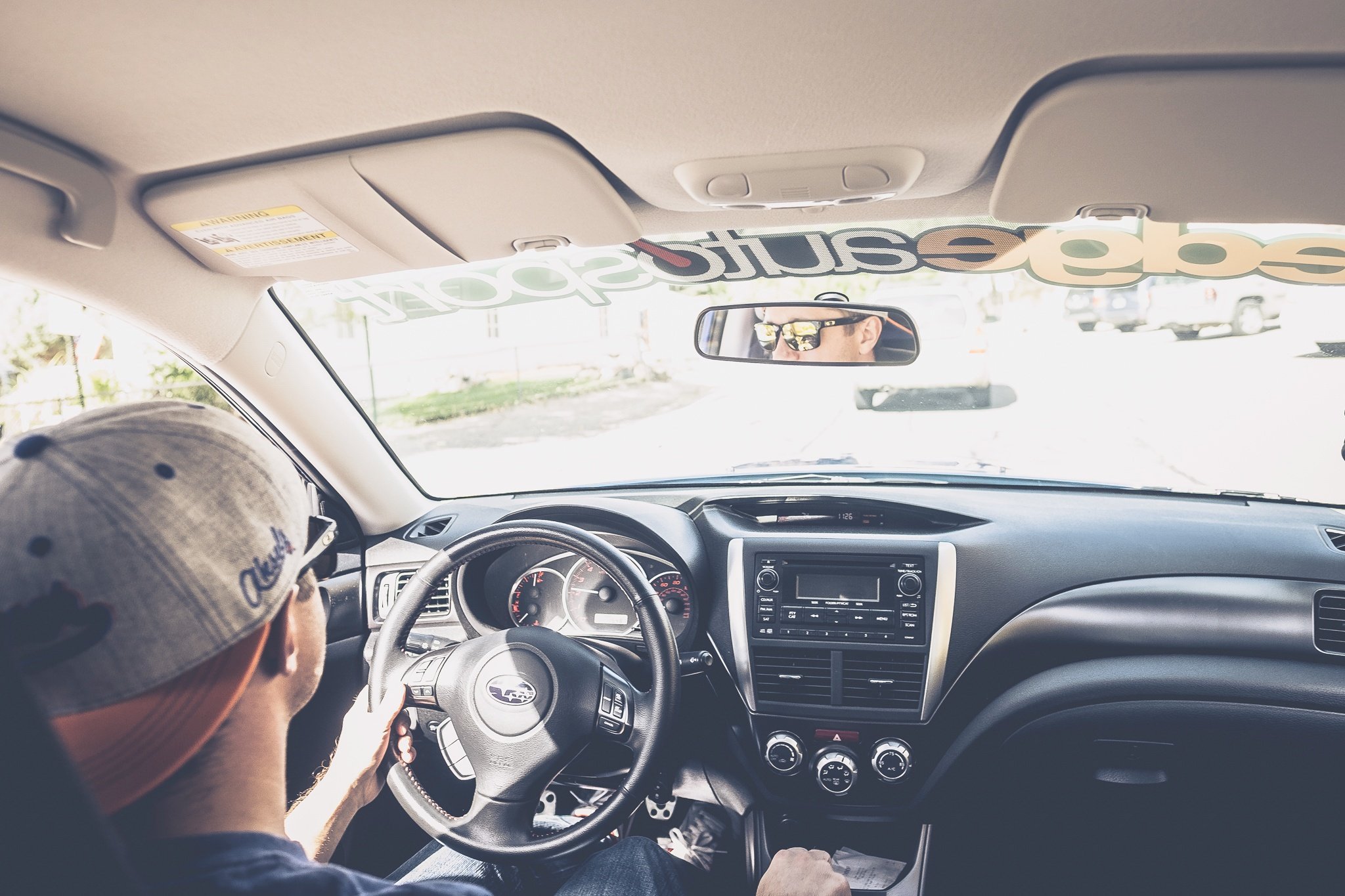 Project FC3 Honda Civic Si Gets Wheels, Tires, and Coilovers
If you remember, we bought a 10th gen 2017 Honda Civic Si a little while ago. Around that time, we received the engine for our Focus ST that we were waiting quite a while for. So, the Civic was put on the backburner. A few other priorities crept up and 2 years later, the Civic was still just a regular ol', stock Civic. Time to change that and get going on this bad boy!
Kicking off our Project FC3 required a solid stance with a nice wheel and tire setup. We wanted a good look and a proper handling Civic from the get-go. We actually got the wheels and tires a while back but decided to make them part of this first step in our Project FC3 series. After having seen the wheels on the car before, I knew we were set with that. But I was really anxious about the coilovers. Here's a little bit about what our thought process was and what we like about them after getting them on the car.
Here's what we'll cover.
Kumho Ecsta V720 Tires in 245/40R18
SSR GTV01 Wheels in 18x8.5, +40mm offset
HKS Hipermax GT IV Coilovers
Let's knock out the tire discussion first. It'll be quick. Honestly, I went with these tires because they're inexpensive and this is a street car. We simply won't be pushing this car to the limits, at least in the foreseeable future. If we do, we'll consider some different, more qualified tires and possibly even some different wheels. I have no reason to believe these wouldn't be any good at the track. I'm just saying that price was the main driver behind this purchase. But until then, it's just about putting some solid tires on the car that if they get a nail in them or a sidewall blows out in a pothole, I won't feel so bad. With that said, they're louder than I wanted. The big tread blocks somehow slap the road a lot more than I anticipated so if you're considering these tires, you've been warned.
The tire size is 245/40R18. The factory tires are 235/40. So, these end up being a bit taller and wider. In my mind, that was perfect because I felt the factory tire's sidewall was a little too small (not that I'm smarter than Honda or anything). Personally, I like the taller sidewall a little more.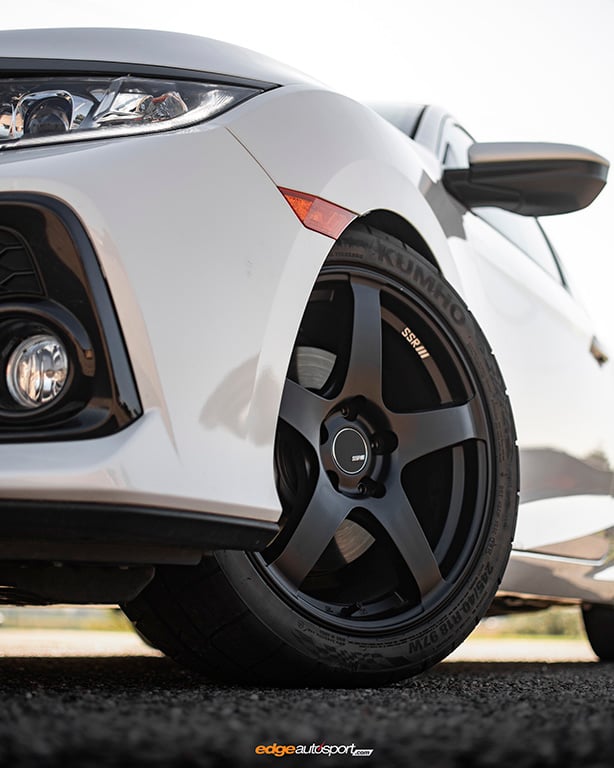 The wheels were chosen for a few reasons. I don't know a ton about SSR as a company but they have a pretty solid reputation from what I know. I like most of their designs and they seem to be on the sport side rather than making them fashion first. Their GTV01 has a classic 5-spoke design and came in black which was a great contrast to the white car. I had the thought of getting them powder coated in some shade of gold or bronze but we stuck with black. The wheel itself is 0.5 inches wider than the stock wheel and the offset of +40mm combined with the width pushes the wheel 16.35 mm further out than where the stock wheel sits, which is about 0.64 inches. To me, it sits perfectly, mostly flush but not too far. It stays very functional at this width and offset.
With that said, the front rubbed after we lowered it. I'll talk more about that later.
I saved my favorite part for last. The HKS Hipermax GT IV coilovers were always something I've wanted to try on any given project. I was happy to see they developed them fairly quickly for the FC and FK platforms and when I did, I pulled the trigger and put some on order. We had to wait on them a while as HKS didn't really have anything in the country quite yet (they're from Japan, in case you missed it). Once they came, we couldn't get the box open fast enough! HKS's coilovers are just like all their other parts in terms of quality and completeness. They don't leave it up to chance in the engineering department. The monotube dampers are more stable and consistent compared to a twin tube. Dust boots cover the inner shaft from dirt and debris while being used on the road. The shocks are coated using a high tech PNE coating which provides over 5 times the durability over the standard galvanizing process. The springs come with preinstalled rubber insulators to keep the transmission of sound and vibration down in the springs. The shocks have 30 different levels of adjustment from hard to soft. Although I'm not 100% sure what magic happens inside of a shock body when driving, HKS says they have a new needle design as the key to a comfortable ride. I'm here to confirm the comfortable ride part. I've had a set of $800 coilovers on a car before and this feels night and day more comfortable and refined than those. The difference is NOT just the price.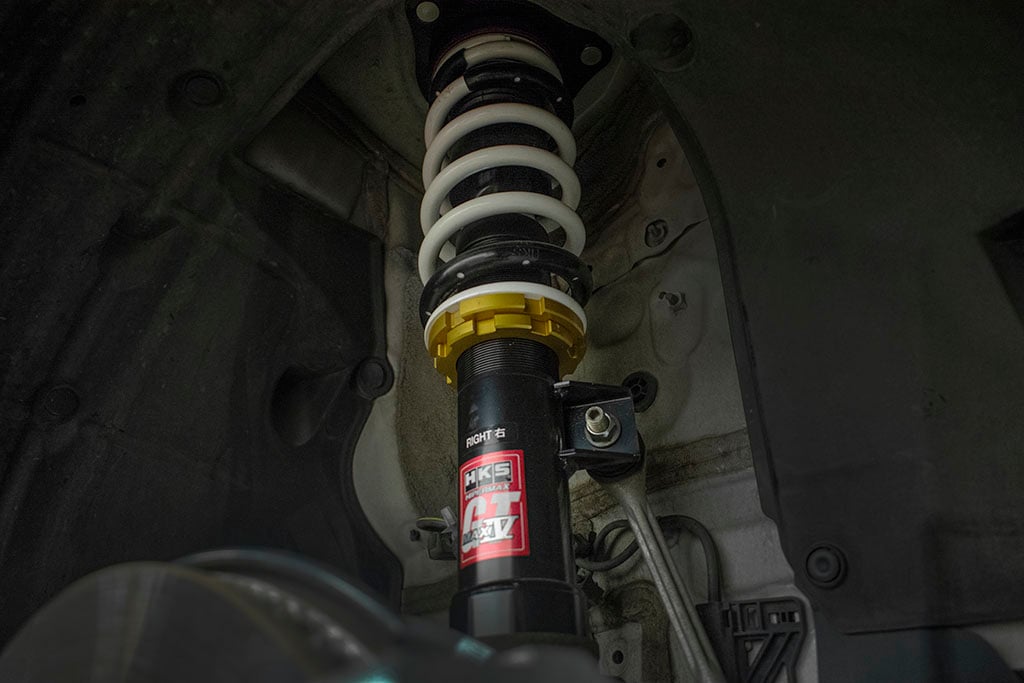 Upon installation, they fit perfectly. I would imagine they preset the shock and spring heights at the factory because there's no way all shocks and spring perches were setup identically by coincidence. The height and dampening level were very appropriate for a starting point. We ended up lowering the height another inch, or so, from where they set it up before shipping it out. After the first time out on the road, the ride was so much better than I anticipated. It doesn't bounce at all. It soaks up everything in the road like a stock suspension only faster and with a crisper feel. Unfortunately for us, our slightly taller tires rub on the front on fast and hard dips and bumps. After looking at the tire, it's not even cutting the tire. It's only a slight rub. But it's still enough to annoy the heck out of me. Either way, tires and fenders weren't made to rub so it'll need to be fixed. I'm afraid that after aligning it, it'll rub more aggressively since the camber is most likely too negative at this point after lowering the car, and it'll have to be put to a more positive setting. We'll get the alignment first and make the necessary adjustments from there. At the end of the day, we may have to end up switching tires. It wouldn't be the end of the world but we'll try to make it work.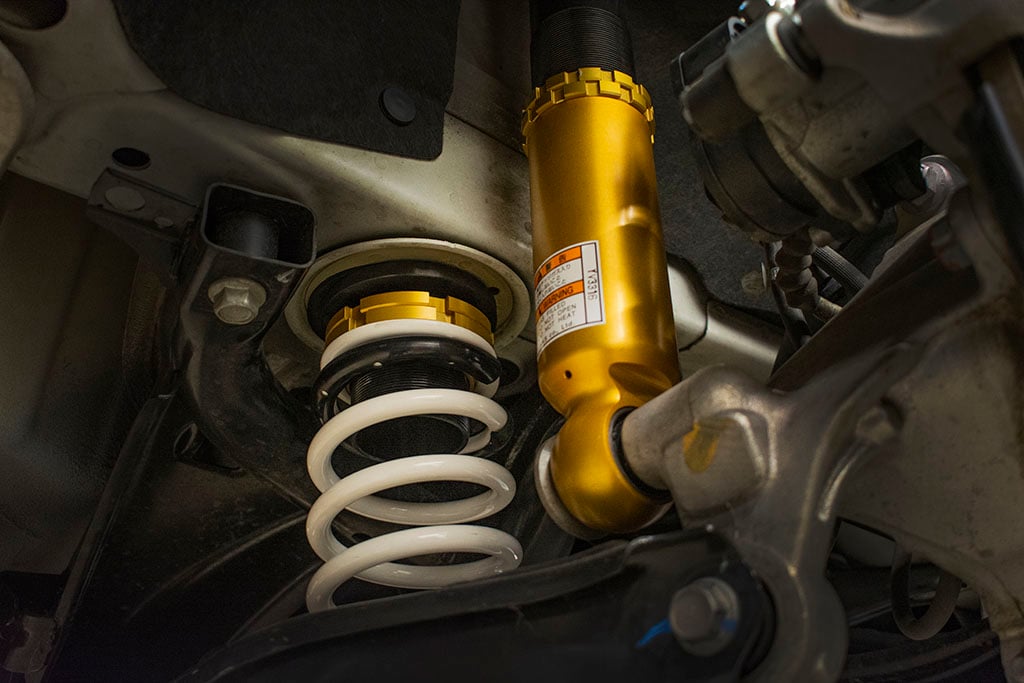 To wrap this up, we didn't install the error canceler that was an option with our kit yet. We'll be installing that later. Unlike the beeping you get when you don't do your seatbelt, it's not going to annoy the heck out of you but it is important to us to clean up the dash and cancel out the error message.
Aside from the tires rubbing, I really like the whole setup. The ride quality is truly as advertised. The tires work well and were priced very fair. And the wheels really set off the car. I think once we have some other exterior enhancements, it'll really complete the appearance of the car. We'll continue to add some chassis upgrades to continue improving the handling aspects of the car but we're excited about where it sits after a couple big to-do's have been knocked out.
---
In the next part of Project FC3, we dig into tuning our 10th Gen Honda Civic's ECU with a KTuner device without having any bolt-on parts on the car. The results are crazy! Click here to check it out.
About JP Alonso
I'm the founder of Edge Autosport and I remember first getting into cars in high school. I read all the magazines, bought a bunch of technical books, and finally got to start wrenching around the age of 19. I really enjoy modding and being able to live out a passion is truly awesome. I wouldn't change a thing.